Publish Open Access With Grant Funds
Publish open access using grant funds
For authors without access to a read and publish agreement, ACS provides the option to publish open access using grant or personal funds – known as "Author funding". Prior to submission, please make sure you're familiar with any requirements your institution or funder might have for open access publication.
Step 1
Once your article is accepted, you will receive an email to complete the Journal Publishing Agreement (JPA).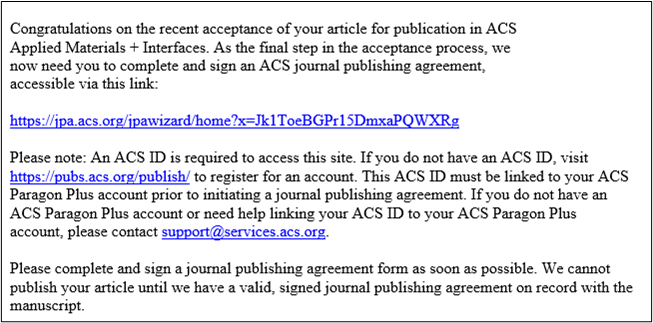 To publish open access and retain copyright, select, "Yes, I would like to purchase open access." Please note that the open access/license fee must be paid in full for your manuscript to publish. Now you will need to complete the JPA signing process.

To initiate the open access transaction and complete payment or invoice generation click the "Order Open Access" link provided after you sign the publishing agreement.

Step 2
This link will take you to Copyright Clearance Center (CCC) RightsLink®, ACS' open access e-commerce partner for open access transactions.
Once you land on the Charges Estimate page, from the ACS AuthorChoice drop down, select open access or open access after 12 months. Select CC BY-NC-ND or CC BY from the Creative Commons License drop down. If your institution qualifies for an affiliation discount you will see this reflected automatically.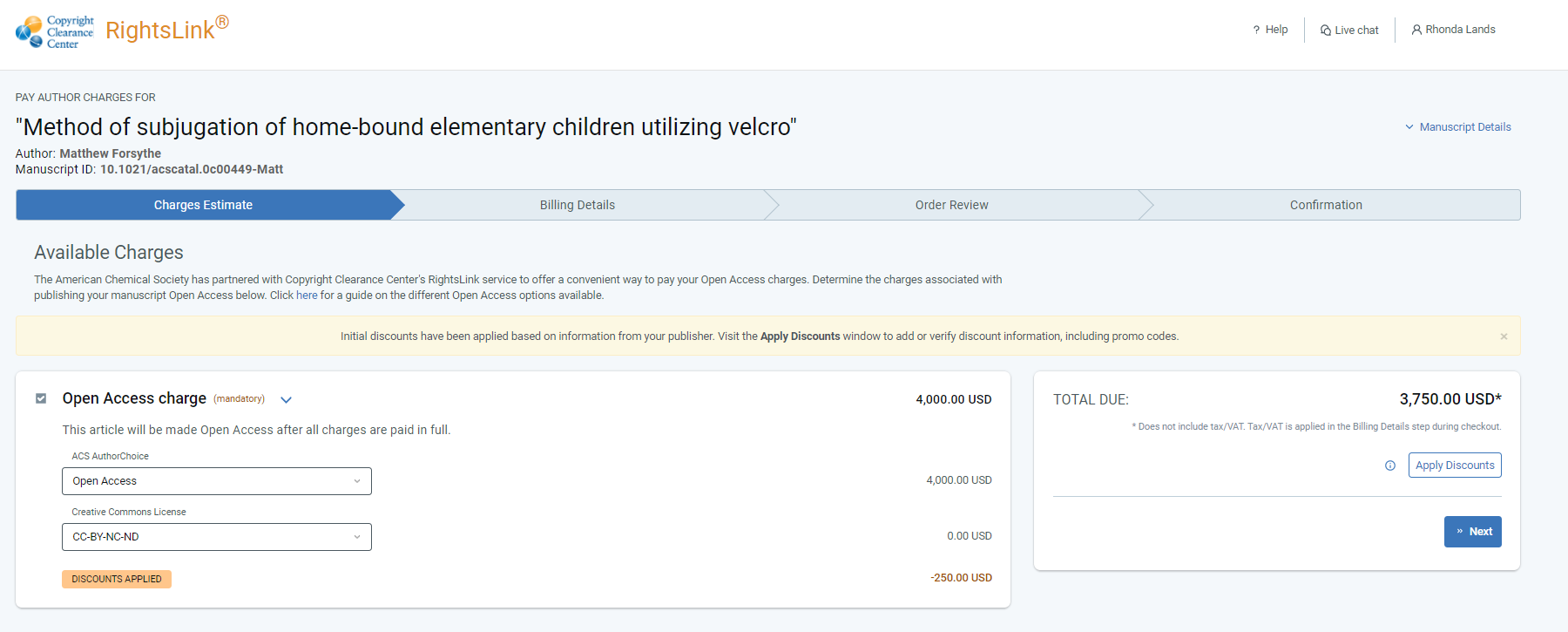 Step 3
If your purchase is eligible for discounts or you have a promotion code, click on Apply Discounts and enter the information. Click on Apply Discounts and then click Close. More information on pricing and eligible discounts can be found here.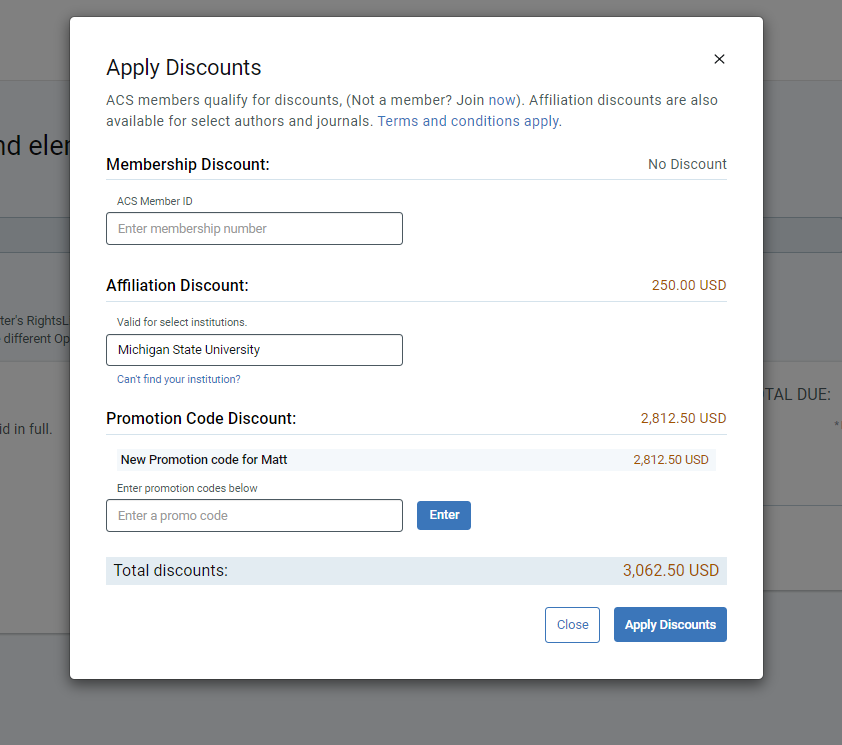 You will see the new Total Due with discounts and promotions applied. Click "Next".

Step 4
CCC requires a registered account in RightsLink® to complete the funding request transaction. Here you can create an account, if you don't already have one, or sign in if you do have an account. Note that this account is different than your ACS account.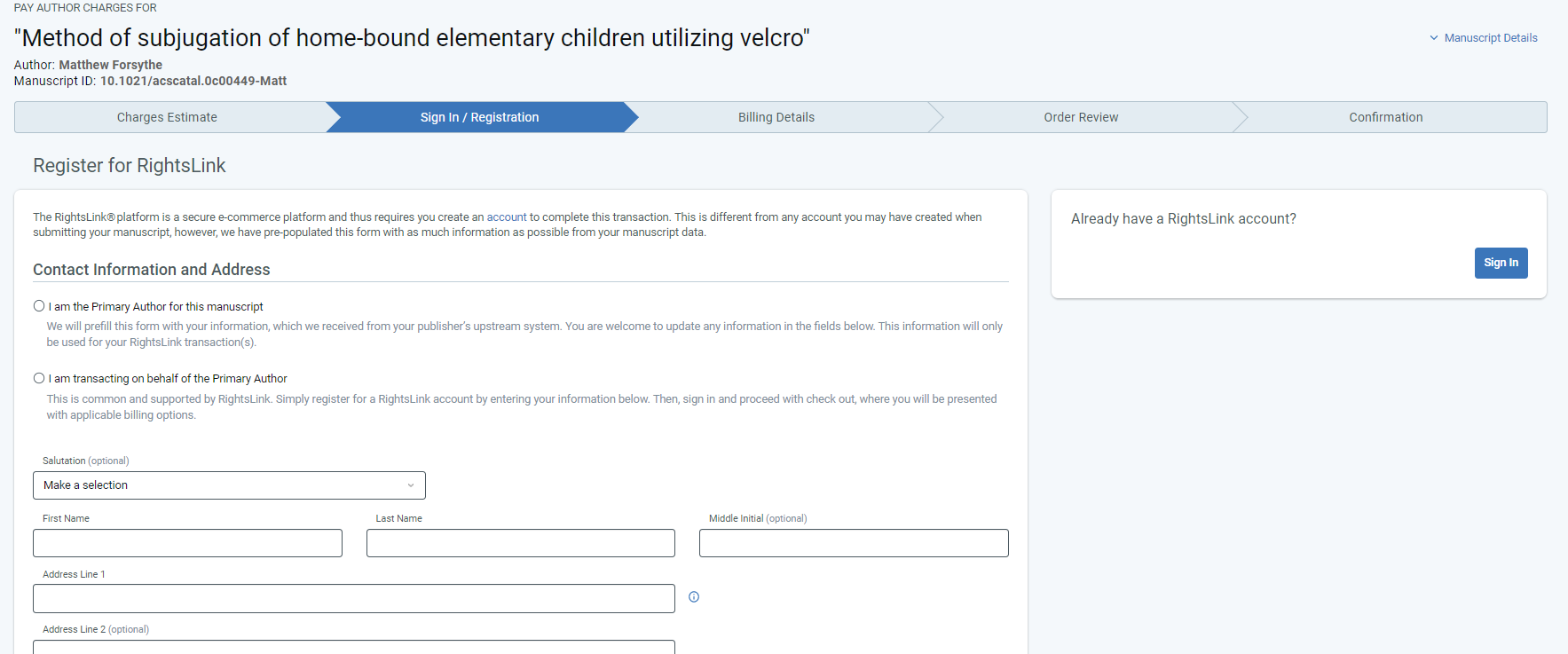 Step 5
On the Billing Details page you will choose to pay via Credit Card or Invoice. Verify the billing address and customer location details. Enter a VAT ID number, if applicable. Once the billing details are completed, click "Next" to continue.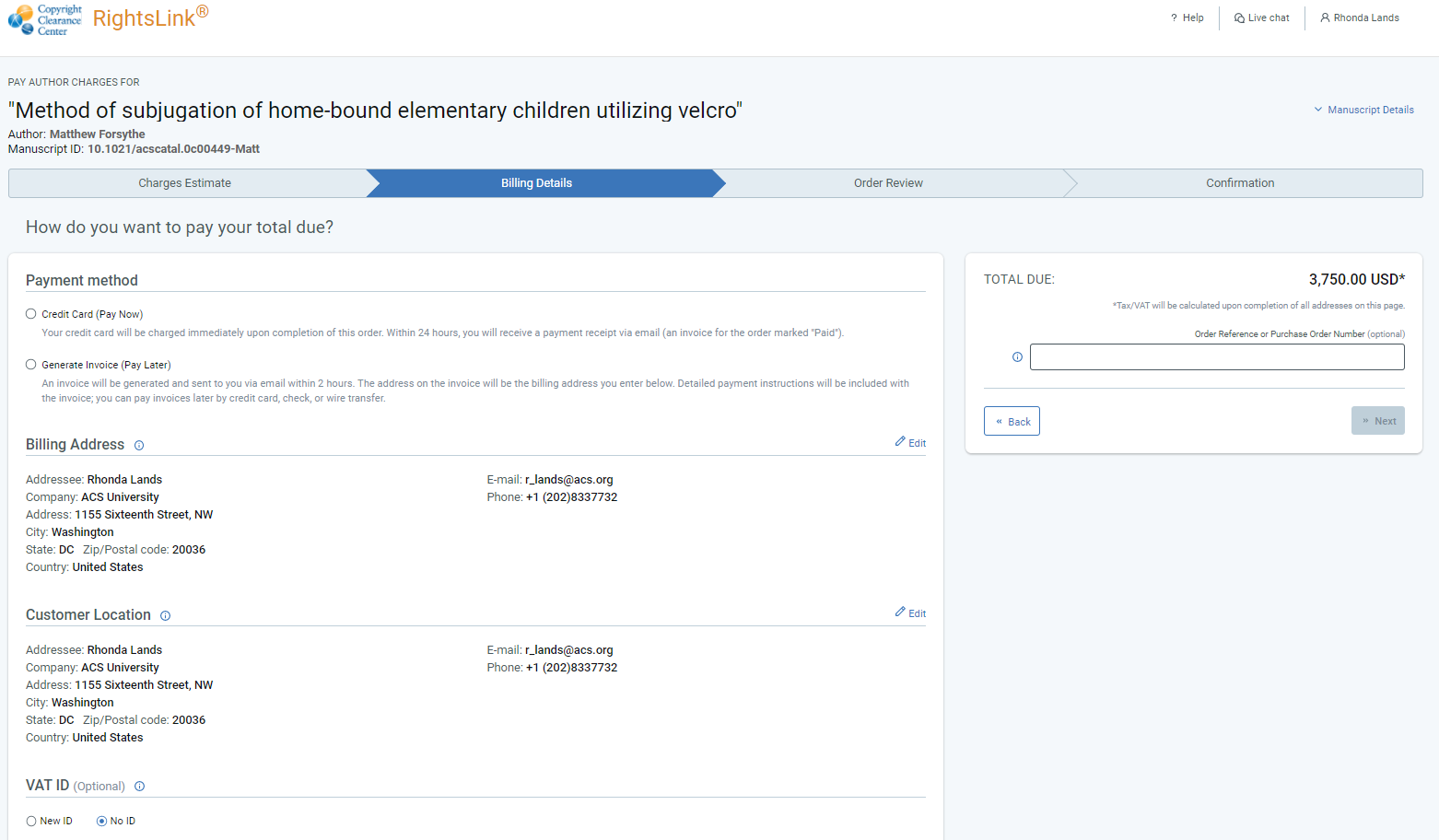 Step 6
Order Review: Verify that the order information is correct, including license choice, discounts and billing address. Accept the terms and conditions by checking the box and click the "Place Order" button. You are done!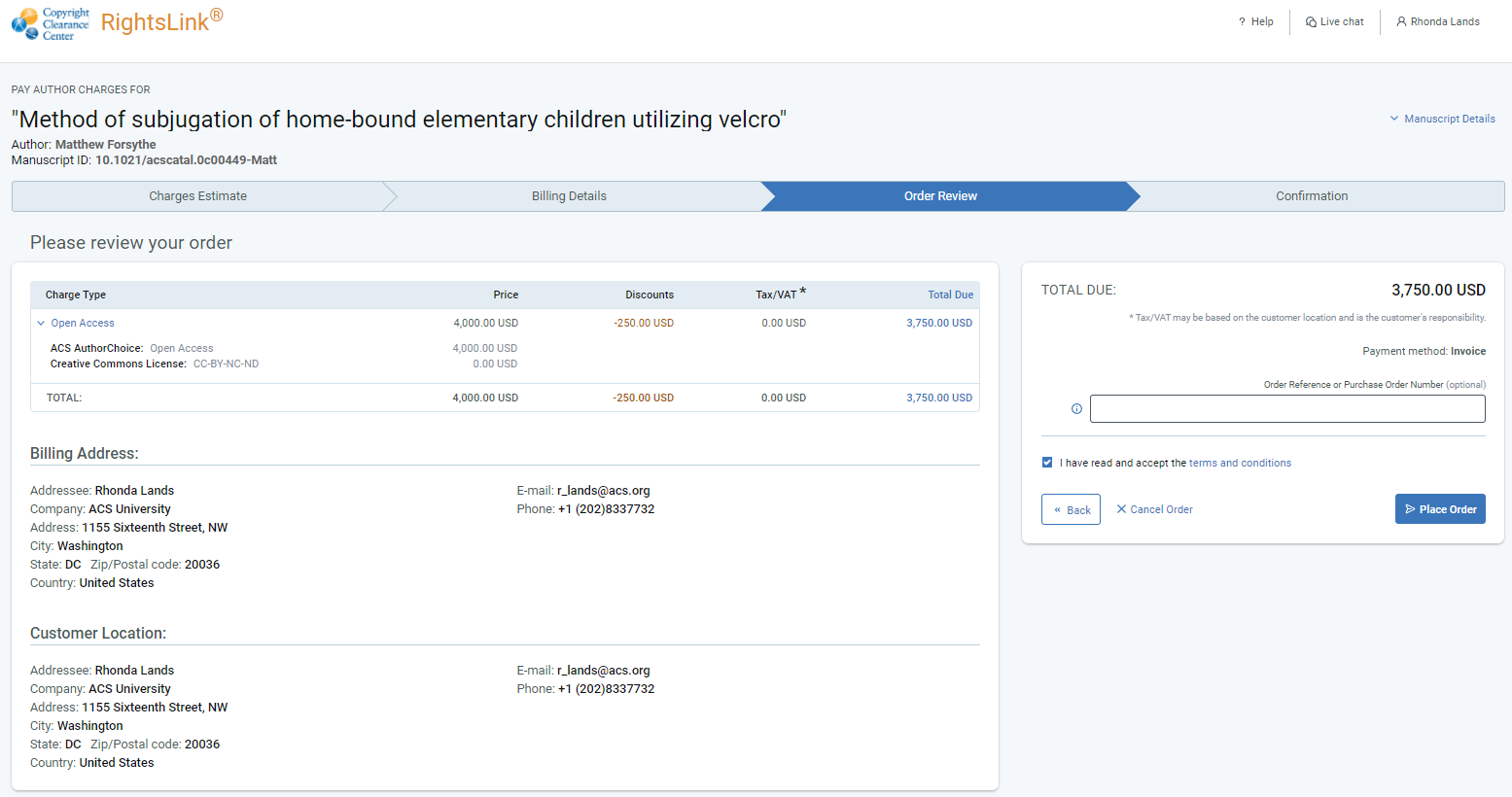 You will receive an email confirmation when your order is placed. Once payment is received and processed your manuscript will be published open access with the applicable license.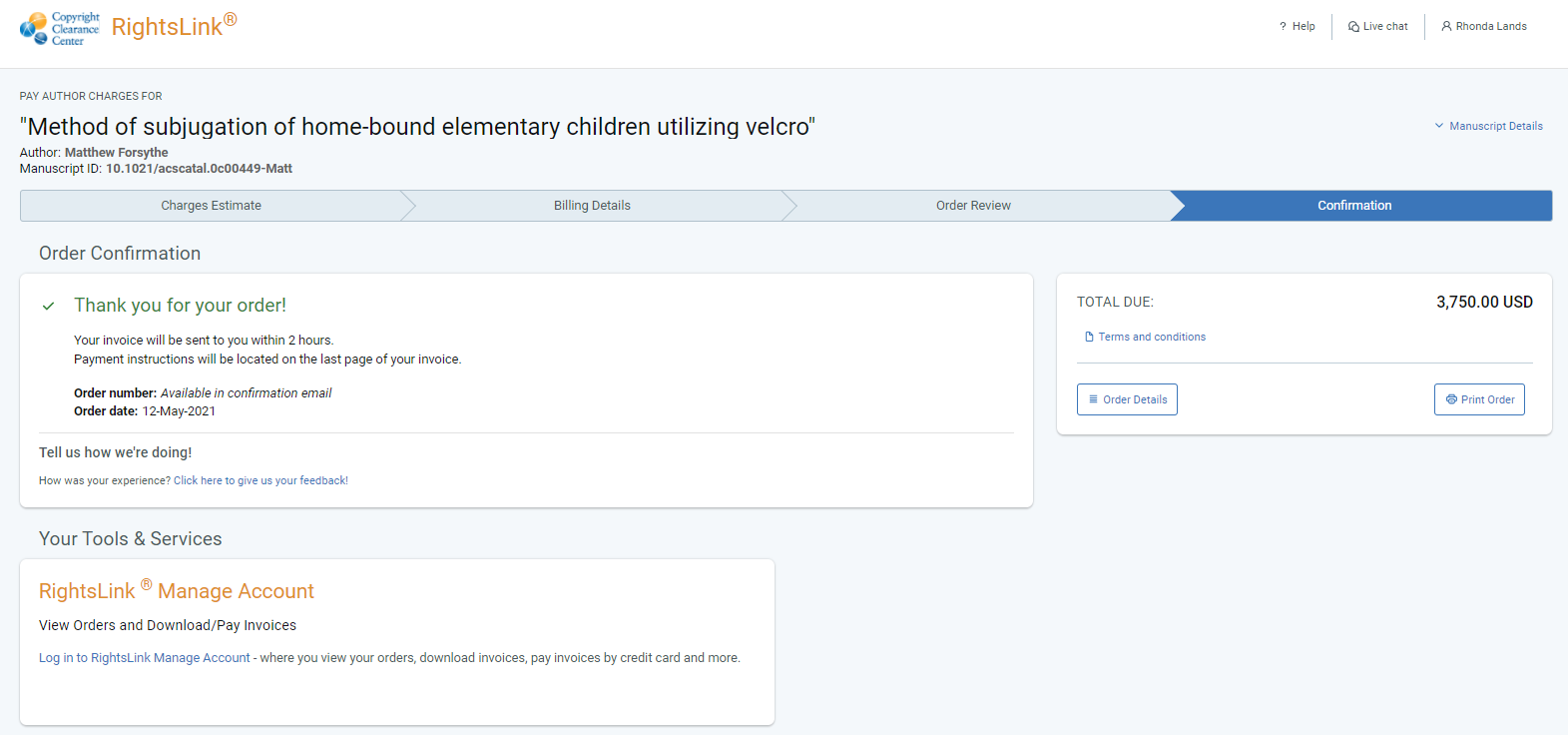 Journal Publishing Agreement demo video
This video shows you how to navigate the Journal Publishing Agreement assistant and publish your research open access via Author Funding (ACS AuthorChoice).