SANLiC
South African National Library and Information Consortium
Which ACS journals are included in this Agreement?
The table below shows the ACS journals where your article publishing charge (APC) should be covered by your institution. Unless otherwise stated, this Agreement covers 100% of the APC.
Publish Open Access at No Cost
If you are a researcher associated with a participating member of SANLiC (the South African National Library and Information Consortium) and are the submitting corresponding author, you will have the opportunity to publish your research in any ACS transformative journal under a CC BY open access license with your institution's support.
Publication charges for ACS' transformative journals will be fully covered. Authors publishing in ACS Au journals will receive a reduced APC of $3,000.
Please note that ACS Omega publication charges are not covered by this agreement.
Access to All ACS Journals
In addition to open access publication benefits, participants in this special agreement will have full-text access to all current ACS Publications journal content.
Scroll down to find out if your school is a participating member and how to publish at no cost under this agreement.
Participating institutions
Agricultural Research Council (ARC)
Cape Peninsula University of Technology
Council of Scientific and Industrial Research
Nelson Mandela University
North West University
Rhodes University
Stellensbosch University
Tshwane University of Technology
University of Cape Town
University of Fort Hare
University of Johannesburg
University of Limpopo
University of Pretoria
University of South Africa (UNISA)
University of the Free State
University of the Western Cape
University of the Witwatersrand
Vaal University of Technology
I'm a Prospective Author, How do I Publish Open Access?
Step 1
Submit your article to the ACS journal of your choice, making sure you are the submitting corresponding author.
Step 2
Ensure your institution affiliation is correct on your profile in the ACS Paragon Plus submission system.
Step 3
Check that your affiliation is stated in the body of the manuscript as the corresponding author's affiliation.
Step 4
When your manuscript has been accepted for publication, you will be automatically prompted with the option to publish open access under your institution's agreement.
Step 5
Confirm that "Yes, I wish to publish open access as per the agreement" and complete the Journal Publishing Agreement.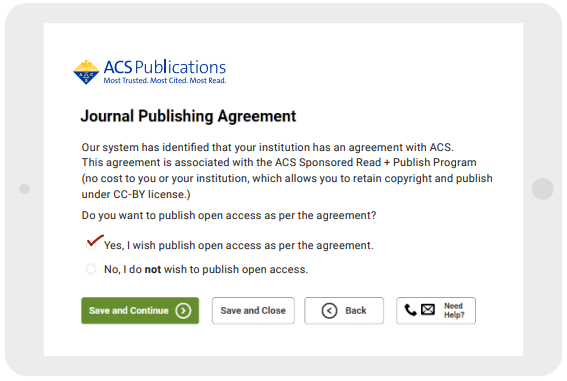 Step 6
Your institution will be alerted to your open access funding request. If the request is approved, your article will be made immediately available as open access upon publication under a Creative Commons CC BY 4.0 license.
Video demonstrations
Different institutions within your consortium have slightly different publishing workflows.
Our first demo video shows you how to navigate the Journal Publishing Agreement assistant and publish your research open access under an institutional open access agreement.
This second video shows you how to navigate the Journal Publishing Agreement assistant and publish your research open access under an institutional open access agreement with an added demo of the Copyright Clearance Center RightsLink® system.
Automatic Article Deposit
Authors who elect to publish open access will automatically have their final published article sent for deposit in PubMed Central. Please note all contents accepted for US PubMed Central are automatically mirrored on Europe PMC — nothing more is required on your part. Authors publishing open access under this agreement are also free to deposit the version of record in their institutional and/or research funder's designated open access repository.