ACS Read + Publish Agreements assist authors and institutions with meeting their goals of widespread open access publication while ensuring researchers have full access to ACS journal content. You can find out if you are covered by an ACS Read + Publish Agreement here.
As a corresponding author eligible for sponsored open access under a Read + Publish Agreement, during submission, you need to:
Use an affiliated university email extension address and select its institution from the drop-down box.
Confirm that the institutional affiliation stated in the body of the manuscript is the corresponding author's affiliation.
Once your article is accepted, follow these steps to publish open access under a Read + Publish Agreement:
Step one:
Once your article is accepted, you will receive an email to complete the Journal Publishing Agreement (JPA).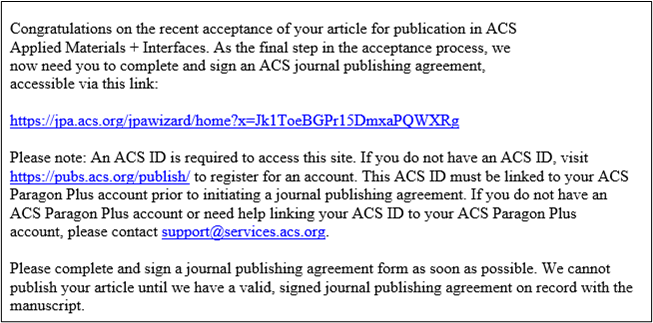 Select "Yes I wish to publish Open Access" and complete the JPA signing process.

If you are part of an agreement using the Copyright Clearance Center Touch-free workflow, your open access funding request is automatically sent to the agreement administrator at manuscript acceptance; no further action is required from you.
If you are part of an agreement using the Copyright Clearance Center Standard workflow, click the "Order Open Access" link provided after you sign the publishing agreement.

Step two:
The "Order Open Access" link will take you to Copyright Clearance Center RightsLink®, ACS' open access e-commerce partner for open access transactions.
Select "Seek Funding from (Your Institution/Agreement)" and click "Next".

Step three:
On the Charges Estimate page, review the details including the agreement assigned creative commons license and that the total due is $0.
Step four:
The Copyright Clearance Center requires a registered account in RightsLink® to complete the funding request transaction. Here you can create an account, if you don't already have one, or sign in if you do have an account. Note that this account is different to your ACS account.
Step five:
Review your funding request. The Billing Address is the address for the administrative entity of the open agreement, for example the consortia or institution which the agreement is associated with. Check that you have agreed to the ACS Terms and Conditions and click "Submit for Approval" to complete the open access funding request.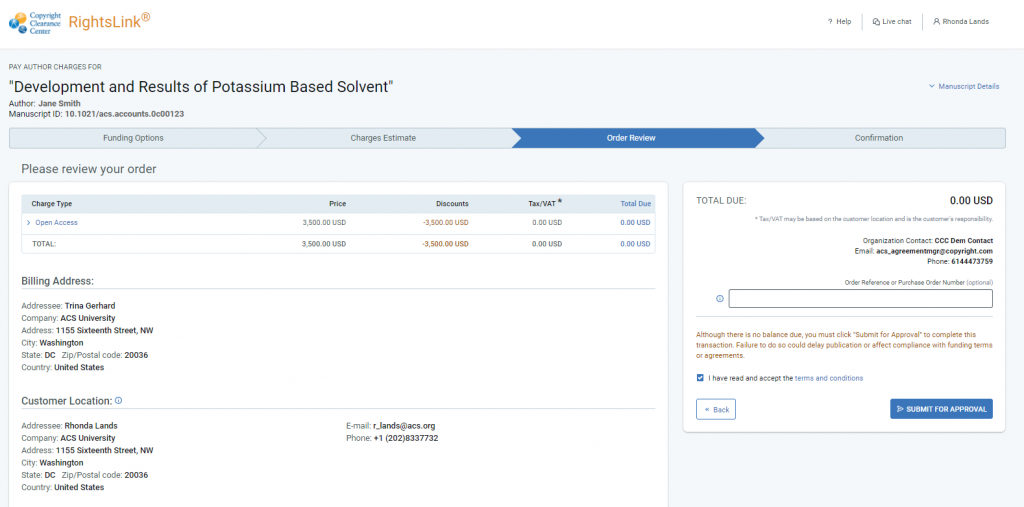 You will receive a confirmation email from the Copyright Clearance Center (no-reply@copyright.com) once your request is approved. At this stage, your steps to receive open access funding is complete. The published article will indicate the selected public use license to let readers know it's open access.