ACS-Sponsored Open Access Publishing for PUIs
Find My Institution
If you are associated with any of the Primarily Undergraduate Institutions (PUIs) listed below and are the submitting corresponding author, you may have the opportunity to publish your research in any ACS journal under a CC BY open access license free of charge. This is available for the duration of your institution's subscription to the ACS All Publications Package. Learn how to publish your next paper OA.
All PUIs qualify to participate in this program. Don't see your institution? Ask your librarian or your department chair to contact us. Even if your organization does not qualify as a PUI, we can review options for open access publishing support at your institution.
How Do I Publish ?
Step 1
Submit your article to the ACS journal of your choice, making sure you are the submitting corresponding author.
Step 2
Ensure your institution affiliation is correct on your profile in the ACS Paragon Plus submission system.
Step 3
When your manuscript has been accepted for publication, you will be automatically prompted with the option to publish open access under the ACS Sponsored Read & Publish agreement.
Step 4
Confirm that "Yes, I wish to publish open access as per the agreement" and complete the Journal Publishing Agreement.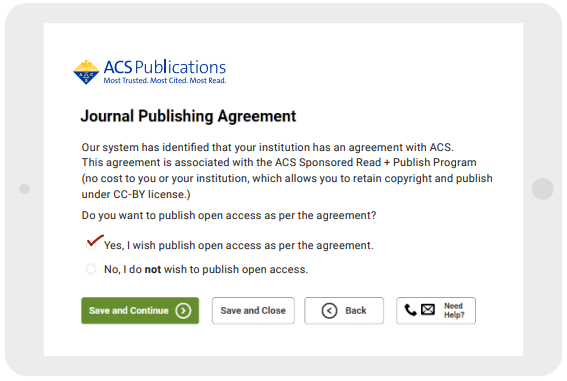 Step 5
Your article will be made immediately available as open access upon publication under a Creative Commons CC BY 4.0 license. There are no charges to pay and no further action required by either you or your institution.
Video demonstration
This demo video shows you how to navigate the Journal Publishing Agreement assistant and publish your research open access under your institutional open access agreement:
Automatic Article Deposit in PubMed Central
Authors who elect to publish open access will automatically have their final published article sent for deposit in PubMed Central. Authors publishing open access under this agreement are also free to deposit the version of record in their institutional and/or research funder's designated open access repository.
Immediate Public Access to Research
Some research funders, including all federal funding agencies in the United States, require authors to make a version of their research article available in a public open access repository immediately upon publication.
You may see this referred to as 'zero-embargo green open access'.
If you receive any type of funding from a US federal agency such as the Department of Energy or National Institutes of Health, or any other funding organization with a zero-embargo green open access policy, then your funder may require you to make a version of your manuscript available in an open access repository immediately upon publication. You will need to check the terms of your grant, and/or communicate with your grant officer, to confirm if such a policy applies to your work.
Publishing open access through your institution's read and publish agreement is compliant with these mandates. ACS Publications will automatically submit the version of record of your article to PubMed Central, and you and your co-authors are free to post it to any other repository or service required by your funder(s). Combined with public access to your research data, this will ensure compliance with any applicable zero-embargo green open access policy.
For authors who do not already benefit from a read and publish agreement, ACS Publications' zero-embargo green open access option expands the choices beyond the free 12-month embargo route for those authors to comply with funder mandates by posting their accepted manuscript with a CC BY license to a repository immediately upon acceptance, following payment of an article development charge (ADC).
List of Qualifying Institutions
Adrian College
Albright College
Alma College
Appalachian State University
Augustana University
Austin Peay State University
Ave Maria University
Bard College
Bates College
Belmont University
Black Hills State University
Bowdoin College
Bradley University
Bridgewater State University
Butler University
Calvin University
Carleton College
Cedar Crest College
Central College
Central Connecticut State University
Central Washington University
Chicago State University
Claflin University
Colby College
Colgate University
College of Charleston
College of New Jersey
College of Saint Benedict & Saint John's University
College of Saint Scholastica
College of the Holy Cross
Connecticut College
Davidson College
Depauw University
Doane University
Dominican University
Dordt College
Drake University
Earlham College
Eastern Illinois University
Eastern Kentucky University
Eastern New Mexico University
Eckerd College
Elizabeth City State University
Elmhurst University
Elon University
Erskine College & Theological Seminary
Fayetteville State University
Ferris State University
Florida Southern College
Fort Hays State University
Francis Marion University
Furman University
Gonzaga University
Governors State University
Grand Rapids Community College
Grand Valley State University
Grinnell College
Hamilton College
Hanover College
Harper College
High Point University
Hillsdale College
Hobart and William Smith Colleges
Hope College
Houghton University
Illinois College
Illinois Wesleyan University
Indiana Wesleyan University
Indiana University Northwest
Iona College
Keene State College
Kettering University
Lindenwood University
Luther College
McDaniel College
McNeese State University
Methodist University
Metropolitan State University
Missouri State University
Monmouth College
Mount Holyoke College
Nevada State College
New Mexico Highlands University
Niagara University
Northeastern State University
Northern Kentucky University
Northern Michigan University
Northwest Missouri State University
Pacific Lutheran University
Pacific University
Oakwood University
Olivet Nazarene University
Ouachita Baptist University
Reed College
Rhode Island College
Rhodes College
Rider University
Roanoke College
Rockhurst University
Roger Williams University
Rollins College
Saint Catherine University
Saint Cloud State University
Saint Lawrence University
Saint Martin's University
Saint Olaf College
Salem State University
Seattle University
Shippensburg University
Siena College
Skidmore College
Smith College
Southeast Missouri State University
Southeastern Oklahoma State University
Southern Adventist University
Southern Alberta Institute of Technology
Southern Arkansas University
Southern Illinois University, Edwardsville
Southern Nazarene University
Southwestern Oklahoma State University
State University of New York at Brockport
State University of New York at Old Westbury
State University of New York at Plattsburgh
Stetson University
Tarleton State University
Texas A&M International University
Texas A&M University Galveston
Trinity College
Truman State University
Union College, New York
Union University
University of Arkansas Fort Smith
University of Central Oklahoma
University of Charleston
University of Evansville
University of Minnesota Duluth
University of Minnesota Morris
University of Montevallo
University of North Alabama
University of North Carolina at Asheville
University of North Florida
University of Portland
University of Richmond
University of South Carolina Aiken
University of South Carolina Upstate
University of Tampa
University of Tennessee Martin
University of the South
University of West Florida
University of Wisconsin – Eau Claire
University of Wisconsin – GreenBay
University of Wisconsin – La Crosse
University of Wisconsin – Marinette
University of Wisconsin – OshKosh
University of Wisconsin – Parkside
University of Wisconsin – Platteville
University of Wisconsin – River Falls
University of Wisconsin – Stevens Point
University of Wisconsin – Stout
University of Wisconsin – Superior
University of Wisconsin – Washington County
University of Wisconsin – Whitewater
US Air Force Academy
US Coast Guard Academy
US Military Academy
US Naval Academy
Utah Valley University
Utica University
Valparaiso University
Vassar College
Wabash College
Washburn University
Webster University
Wellesley College
West Texas A&M University
West Virginia State University
Western Carolina University
Western Connecticut State University
Western Kentucky University
Western Washington University
Wheaton College Illinois
Wheaton College Massachusetts
Whitman College
Whitworth University
Williamette University
William Jewell College
Williams College
Winston Salem State University
Winthrop University
Wofford College
Xavier University of Louisiana