ACS-Sponsored Path to OA Publication
ACS is sponsoring open access publication for authors at primarily undergraduate institutions.
How ACS is helping even more institutions on their path to open access publishing
Authors at participating Primarily Undergraduate Institutions (those which do not offer advanced degrees in the sciences) can now publish their research in any ACS journal completely free of charge under a Creative Commons CC BY 4.0 open access license.
This offer is available for the duration of an institution's All Publications Package agreement with ACS Publications, meaning that corresponding authors at these institutions can publish in ACS journals without cost and with the convenience of automatically meeting most funders' open access publication requirements. Authors that are collaborating with researchers from another organization should confirm that they will act as the submitting corresponding author to qualify for this program.
This ACS-sponsored Read + Publish Agreement helps institutions sustainably support the transition to open science by growing the amount of work their researchers can publish open access while also maintaining full access to ACS subscription content. This flexible approach allows institutions of all sizes to actively participate in the open science movement.
For Authors: Five easy steps to free open access publishing with ACS
Visit our open access page for researchers to learn more about publishing open with ACS.
Make your research articles immediately and freely accessible in any ACS journal
Step One
Submit your article to the ACS journal of your choice, making sure you are the submitting corresponding author.
Step Two
Ensure your institution affiliation is correct on your profile in the ACS Paragon Plus submission system.
Step Three
When your manuscript has been accepted for publication, you will be automatically prompted with the option to publish open access under the ACS Sponsored Read & Publish agreement.
Step Four
Confirm that "Yes, I wish to publish open access as per the agreement" and complete the Journal Publishing Agreement.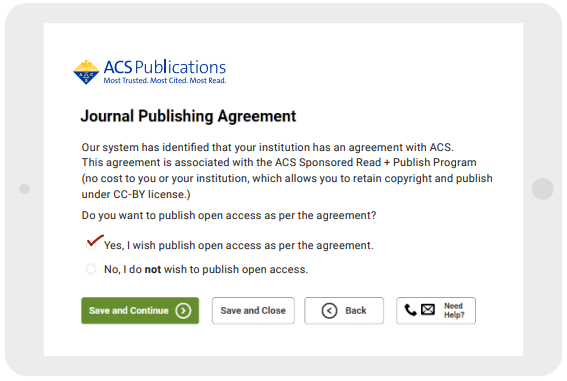 Step Five
Your article will be made immediately available as open access upon publication under a Creative Commons CC BY 4.0 license. There are no charges to pay and no further action required by either you or your institution.
For Librarians: Tell your researchers about this program
Download and distribute our flyer to help spread the word to researchers at your institution.
Schools who acquire their subscription through consortia are not automatically opted in to the program. Please contact ACS Publications or ask your consortium to speak with us to enroll your institution in the program.